RESEARCH
We aim to understand how interactions with community members contribute to the evolution and maintenance of behavioral phenotypes. We focus on two kinds of behavior: mate choice and collective behavior.
MATE CHOICE — For a focal species of leaf-footed bug (the squash bug, Anasa tristis), mating behavior is influenced by two community members. First, copulation duration appears to be strongly affected by a parasitoid fly (Nance & Hamel, unpub.). Second, mating "mistakes" between the focal species and a close relative occur frequently in North Florida, where the second, closely related species has been recently introduced. These matings produce many fewer eggs and offspring than do matings between conspecifics (Lehmann, Stover, & Hamel, unpub.), and are driven by male preference for female body size (Hamel, Nease, & Miller, 2015).
COLLECTIVE BEHAVIOR —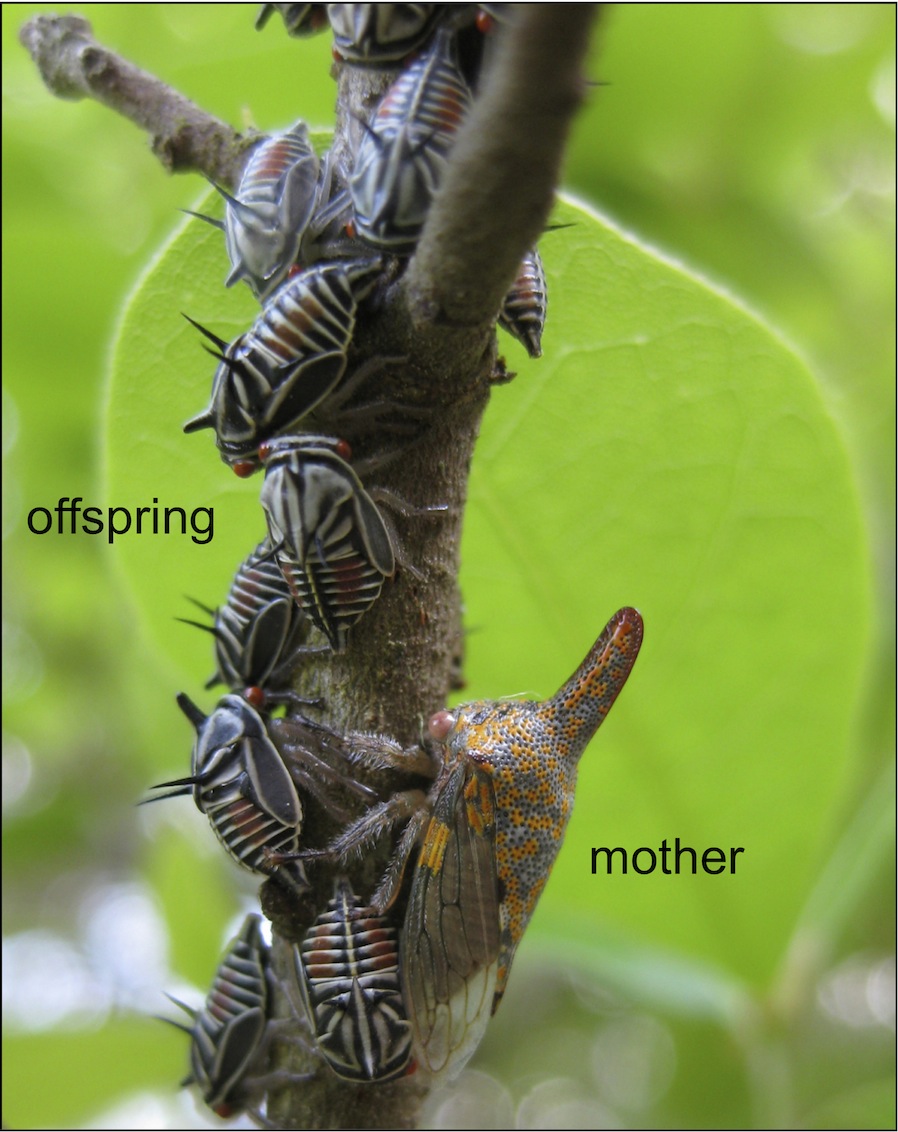 Group-living animals benefit from collective detection of predators, which greatly expands the sensory area of the individual. However, false alarms can be common and costly. Group-living animals should limit false alarms, but there is a tradeoff between reducing false alarms and failing to detect real predators. Additionally, within-group communication occurs within a broader communication network, one that includes predators and parasitoids. Group-living animals should behave in ways that reduce the apparency of social signals to predators.

In some species of treehoppers, mothers and offspring form sedentary family groups on tree branches. Offspring repeatedly produce collective, substrate-borne vibrational signals when a predator attacks a juvenile in the group. Mothers respond to offspring group signals with defensive behavior. Mothers also produce vibrational signals that reduce false alarms by offspring (Hamel & Cocroft 2012). At least one species of invertebrate predator is attracted by the offspring signals, but not by maternal signals. This suggests that maternal signaling also reduces the risk of attracting eavesdropping predators (Hamel & Cocroft, in preparation for Animal Behaviour).
VIBRATIONAL COMMUNICATION — The offspring signals described above are vibrations that travel through plant stems. Vibrational communication is common among invertebrates. In fact, most insects that communicate through mechanical communication do so at least in part by producing such substrate-borne vibrations. This is a largely unexplored frontier! Predator-prey interactions, mate choice, and parent-offspring behavior are all accomplished via signals undetectable to the human ear (Cocroft & Hamel 2010). We use playback experiments in the laboratory and field to test the functions and benefits of such signaling behavior.