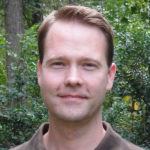 Contact Information
Email
sspurlock@elon.edu
Phone
336-278-6192
Office
101D, Duke Building
Mail
2320 Campus Box
Elon NC 27244 USA
About Me
I am an assistant professor in the Computing Sciences Department at Elon University. I received my Ph.D. from the University of North Carolina at Charlotte, under the direction of Richard Souvenir.
After receiving my bachelor's degree from the University of Florida, and before pursuing my doctorate, I worked in industry for several years as a software engineer, project manager, and consultant. I developed websites, databases, and business applications for a variety of large companies.
Research
My research interests are focused on computer vision and machine learning and, in particular, human motion analysis in camera networks. I am also interested in visualization and interactive analysis of visual data. You can see an overview of some of my work, or find the details in the publications.
I enjoy cross-disciplinary collaborations; past projects have included work with biologists studying biomechanical motion, anthropologists studying the use of spaces, and architects studying hospital design. I am always on the lookout for a new collaboration, so please get in touch if you have an interesting problem.
I also enjoy mentoring undergraduate researchers and have several potential project ideas applying computer vision to games, smart homes, and mobile devices. Depending on interest, projects can involve more or less math, programming, and design. I'm also happy to discuss new ideas.
Teaching
For Spring 2019, I am teaching:
CSC 130, Computer Science I
MWF 8:00 AM - 9:10 AM
Duke 303
CSC 130, Computer Science I
MWF 9:25 AM - 10:35 AM
Duke 303
CSC 401, Data Mining and Machine Learning
MWF 9:25 AM - 10:35 AM
Duke 303